Looking for a nice place in Amsterdam to go on a romantic date? In this blog you can find our 3 date hotspots in Amsterdam Noord & The Jordaan. Enjoy your evening!
Bar/Restaurant Helling 7 – Amsterdam Noord
On the corner of Damen Shiprepair, on the old NDSM site, between the steel, cranes and ships, next to Amsterdam Marina, opposite the Kraanspoor, on the IJ, at the Werf, next to the Melissapier…yes, right there…There is a restaurant with a lovely large terrace on top of an old ship's slipway, with a view of the entire city. It's an amazing spot for a romantic date!
Address: TT. Melissaweg 57, 1033 SP Amsterdam
Bar/Restaurants Jansz – Jordaan Amsterdam
The 17th-century craftsman Volkert Jansz was a man with discerning tastes, a keen eye for style, and a passion for conversation and debate. He embraced the finer things in life but also believed that decadence and luxury are most enjoyable when shared. Jansz. serves beautifully crafted dishes inspired by modern-Dutch cuisine and reflects a passionate commitment to ingredients that are led to and from the Netherlands.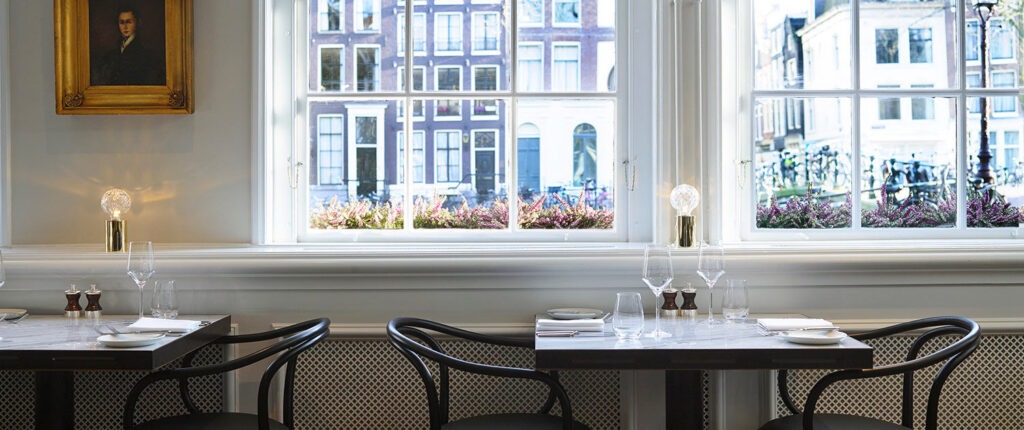 Address: Reestraat 8, 1016DN Amsterdam
Bar/Restaurant Stork – Amsterdam Noord
There are few better places to get stuck into fresh fish and seafood than Stork, a cavernous, south-facing space on the banks of the River IJ. A free ferry shuttles you across the water to Noord and this former factory that now serves up whole lobster, oysters, 'catch of the day' specials and a sumptuous seafood platter. If it's sunny, order some ice-cold white wine, grab a spot on the terrace, and watch the river traffic bustle back and forth.
Address: Gedempt Hamerkanaal 201, 1021 KP Amsterdam